Web Experience Architect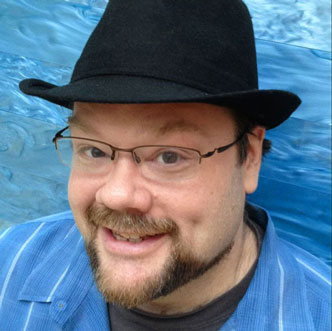 From Brand Creation to User Experience to Message Driven Design to Performant, Reusable Code, I have over 15 years experience breathing life into websites and web-based applications.
This site loaded in

1.3s

.
Areas of Experience
Concepts

Hello
World Solid
Understanding Expert
Level

Technologies

Hello
World Solid
Understanding Expert
Level

Tools

Hello
World Solid
Understanding Expert
Level
Performance Evangelist Writes a Book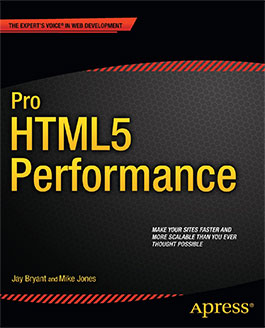 Pro HTML5 Performance provides a practical guide to building extremely fast, light-weight and scalable websites using fully standards compliant techniques and best practices. It strikes a balance between imparting best-practice information for when you're building ground up and instantly applicable techniques to help you solve issues with your existing projects.
In addition to a wealth of tips, tricks and secrets you'll find advice and code samples that elegantly layout the problems your facing and the best ways of solving them. By reading Pro HTML5 Performance you'll squeeze every last ounch of performance from your code, giving your applications unrivalled speed and cost-efficiency.
What you'll learn
Optimize your HTML5, CSS, and JavaScript for client-side performance
Reduce your code's bandwidth to achieve both speed and cost savings
Learn to target multiple devices from the same page
See how your HTML5 content can gracefully degrade to older browsers
Create advanced applications, such as animations, with a light footprint
Make HTML5's semantic markup work for you
Who this book is for
This book is ideal for front-end programmers who know the basics but who want to master the techniques for creating high-performance web sites. It is equally applicable to people who want to architect big sites 'right first time' or those that want to apply some of the concepts to their existing site to make it run a bit faster or same them a little money. Whether you go 'all out' and use everything or just apply some concepts to your existing sites is up to you.
I can't help it, slow is the enemy. I brought together lessons learned working with some great teams at some of the most visited sites on the web and wrote them down in a book for Apress called "Pro HTML5 Performance" with my co-author Jay Bryant who had a master's in English. I wrote the code and he wrote the book explaining the code, it was a good deal.